by Mirta Roncagalli
Food is a central aspects of Italian culture. Important social and identity practices have developed over the centuries and around cuisin, both in Italy and in those lands where Italians emigrated. Amongst Italians in Buenos Aires, food products and gastronomic habits have moved beyond the private sphere and they have influenced the public sphere of which they have become a part.
One of the public forums where we can observe the rise of a discourse about food are in the publications of the Sociedad Italiana de Beneficencia and Unión y Benevolencia – Asociación Italiana de Socorros Mutuos. They were a type of ethnic press written by the leaders of Italian associations and clubs, institutions that played a central role in the social life of immigrants in Argentina.
Food, in the Italian cultural imaginary, has always been connected with an idea of family, conviviality and the quality of products. If we add to this conception the sociopolitical agenda of the Italian institutions in Buenos Aires, in our opinion, it cannot be a coincidence that their publications used food as one of the most powerful instruments to foster a sense of community among Italians in Buenos Aires. It is possible, in fact, that associations emphasized food to foster a sense of identity and community belonging, both to advance their charitable goals and to strengthen patriotic ties among migrants and thus attract new members.
In the pages of the Annali of la Unión y Benevolencia, it is not uncommon to find references to patriotic celebrations or parties dedicated to members that very often ended with a "great social banquet", that is, a convivial moment of music and food that the partners and their families could attend. Food was also a point around which the charitable work of Italian associations unfolded. Immigrant leaders attempted to use food to improve the lifestyle of compatriots by promoting a healthy and balanced diet that would make them healthier both in mind and body. In an issue of the Annali published in March 1932, editors discuss distributing bread and milk to the students of the Edmondo De Amicis school. Similarly, in the issue published in June-July 1937, the same directors called for people to renew their so that Unión y Benevolencia could continue donating food to the school on a daily basis. In several issues you can find sections dedicated to suggestions and food advice, but also culinary articles and recipes, as we can see in the following images taken respectively from the Annali published in March 1928 and August 1934: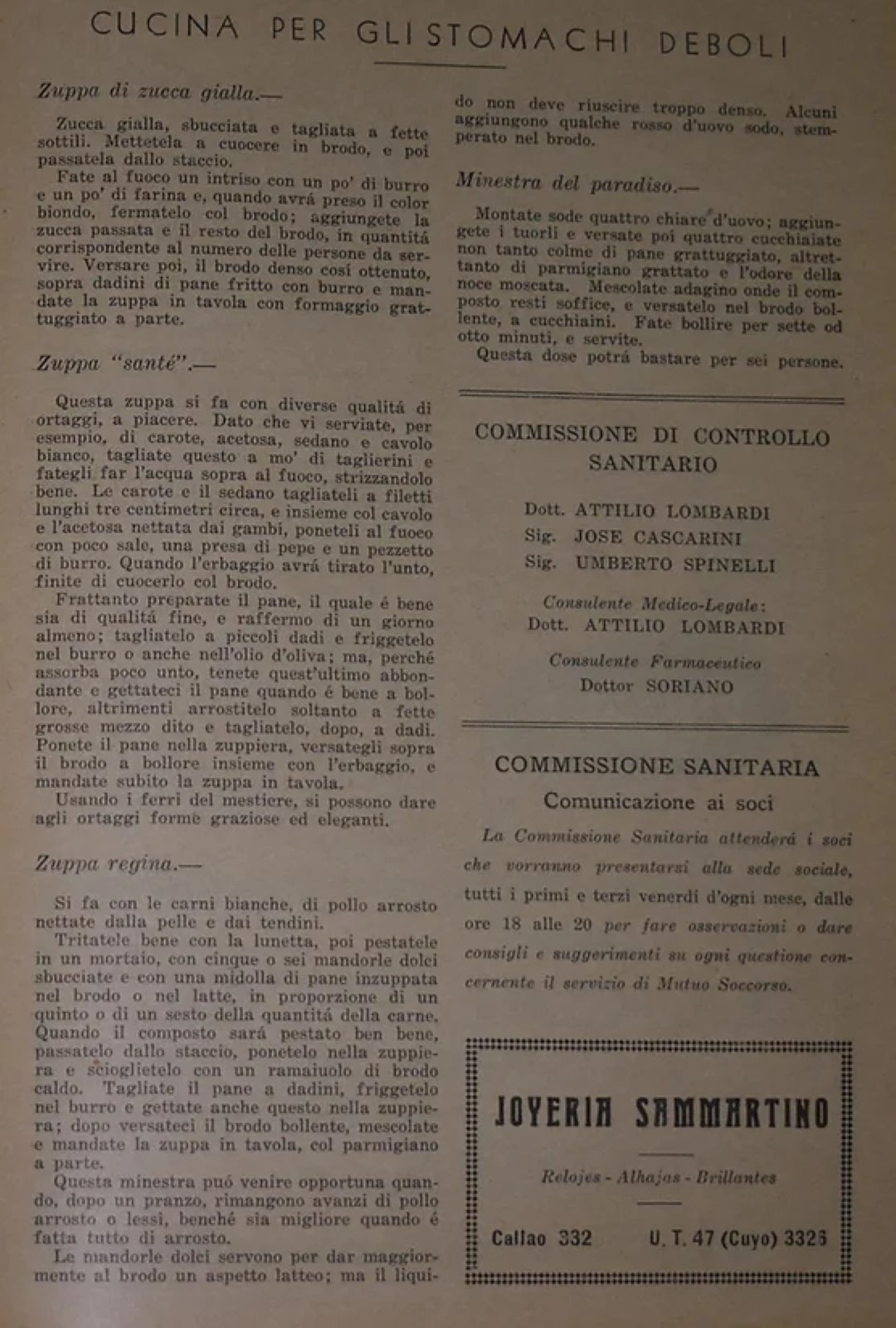 Similarly, businessmen and the press also helped promote community activities with an emphasis on food as it became clear that it was important for immigrants to be able to connect with the aromas, flavors and textures of the food and drinks of their homeland. It is remarkable how the newspaper La Patria degli Italiani, through its advertisements, sought to influence the consumption habits of its readers and bring them closer to familar products. In an advertisement for La Patria degli Italiani from 1910, for example, an immigrant could read about the promises of the Gran Hotel Restaurante Italiano that communicated to its potential diners that they would taste "authentic Italian cuisine". Other entrepreneurs, as can be seen in a page of La Patria degli Italiani from 1915, promised "natural mineral table water" and the most authentic Fernet Branca from Milan.
Specifically, a market fostered by Italian businessmen (and promoted by the press) who were willing to connect their countrymen with the flavors of their past and who offered guarantees of authenticity was spreading. A market that would soon proliferate in the neighborhoods of Buenos Aires, would transform the culinary habits of the city (to this day, in fact, it is easy to find restaurants that offer pizza, sfogliatelle, cannoli or tiramisu as everyday dishes) and would not only to strengthen the feeling of belonging and alleviate the feeling of homesickness, but also begin to shape the process of adaptation in Argentine society.